Blog Archives
Ugly Trash Demon, "You, Me, and FFC"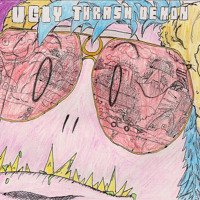 I cannot say enough warm kind things about this band and this song right now. Thanks to UTD for submitting and suggesting it!
Immediately upon listening, I felt my heart comforted by a familiar feeling of acoustic melodies that were followed by a charming voice that somehow sang in facets- strength and talent and experience confidence yet also portraying vulnerability and gentleness…
It can transport you to an open field festival, a breezy warm summer dusk. There may be hundreds of people sharing in the song and serenity with you, and while you feel the connection it brings, you also get a sense of being the only one sitting on the grass as you are serenaded by a voice that at many times sounds a lot like Adam Duritz of Counting Crows.
For a nostalgic nineties dame (er as the case may be: gentleman) it only adds to the sweet embrace of this tune. Then quite honestly the most unexpected surprise comes in the form of horns, brilliantly complimenting the notes the swirl around you. It happens to be perfect if you were heading down 90's Memory Lane since in the back of your mind you may now hear Mustard Plug or Dishwalla humming quietly and respectfully as to not overwhelm or take away from what is obviously a core of well-crafted indie acoustics.
In case you are reading instead of listening and think I am saying these guys are old-school and their music belongs in another decade… you are 180 degrees off! The song screams suitable for the "indie/folk/alt" craze of today while not coming off as generic or cookie cutter. The song and this band stand strongly on their own and I get the sense of some staying power in them, as Juana would say "I can see a future in you, UTD"
Thanks again for sharing this with us and anyone else out there on the other end of the scree- let us know what you think of this one!
Work Drugs. If you have yet to hear this band it's about time you had a listen. Above is their winning remix to Bon Iver's Beth for your listening (and even downloading) pleasure.
The guys were swell enough to answer some questions for the November isue of BSHR Magazine which we promise you can get your little claws on this week. Until then- we have even more news on this fabulous band for you guys.
A re-issue/best-of project called "Delta" is on the verge of being released by Work Drugs. It will be released exclusively through the band's website, and available later this month on limited edition (yellow) vinyl! Can't wait? Bid/enter to get an exclusive test pressing of Delta right here…
Above is the band's latest single, Beyond Greenpoint which we are fairly certain can be caught live if you are lucky enough to attend the following shows the band has currently scheduled: 
Upcoming Shows:
12/8: Philadelphia, PA – Ortlieb's Loung
12/22: Brooklyn, NY – Glasslands Gallery
Dig up more and stay up to date on all that is Work Drugs at workdrugs
.
band
camp.com 
workdrugs
.wordpress.com and of course @ 
facebook.com/
workdrugs
Drug Cabin is a new band featuring Nathan Thelen of Pretty Girls Make Graves and Marcus Congleton of Ambulance LTD.
To call the video for Whatever Never "trippy" would be obtuse. Among it's many quirky and odd happenings, there are toes that turn into tadpoles and swim off screen. Yes, odd indeed. So we explored the mind of the video's director Kevin Willis who explains:
"I became distraught when I lost my cat of fifteen or so years. For weeks, my mind went whirling into strange places knowing that he was never coming back. Then one day he literally just fell back into my lap. So, I decided to document that experience as best I could with this video." 
The EP is available now on iTunes.
FOR MORE ON DRUG CABIN
http://drugcabin.com 
https://www.facebook.com/drugcabin
or hover —> @DrugCabin on Twitter
Six hours + 1 Song Each From Coachella Artists to get you through the rest of your Monday…
The following image was on the front page of ATDIMUSIC.COM today…
And to celebrate we are going to bring you a special Cure your Case after 3pm today on Blue Sky! 
Get excited.